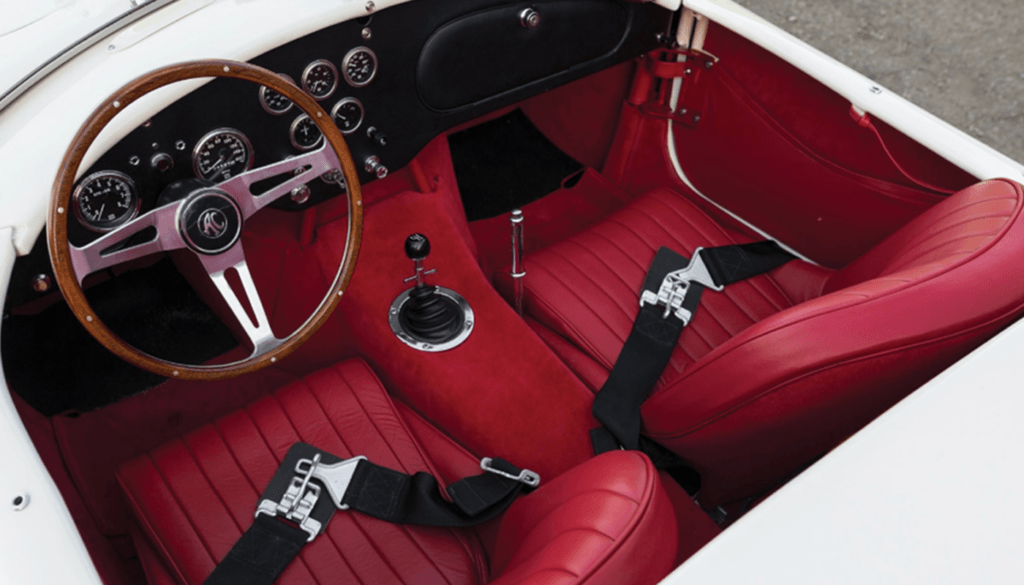 CSX2216 Vehicle Information and History:
Documented with AC Cars Limited and Shelby American invoices
Documented with its original window sticker
Original AC Cobra Chassis Instruction Book in original envelope
Features rack-and-pinion steering
Restored to its original specifications
On October 28, 1963, AC Cars Limited invoiced Ford Motor Credit for a Cobra body finished in white with red trim, top, tonneau, and rack-and-pinion steering. The body left the UK aboard the SS Pacific Fortune, which set sail for the U.S. on November 7, 1963, destined for Los Angeles, California. Upon arrival in the States, the Cobra was transported to Shelby American, Inc., in Venice.
Once it arrived at Shelby American, the car received its Ford power train, which included a 271 hp, 289 cu. in. Hi-Po V-8 engine, a four-speed manual transmission, and a Powr-Lok limited-slip differential. Shelby American invoiced Pearson Ford in San Diego on January 13, 1964 for a total of $5,525.20, less the $1,000 deposit. The window sticker MSRP shows the "Cobra Sports Roadster" listed at $5,995 plus $391 worth of Group A factory-installed optional equipment and $64.50 in Group B extras for a total initial investment of $6,747.50 with the license and taxes.
CSX 2216 was originally purchased by Henry Hartwell Hester, an award-winning mid-century architect and avid motor sports enthusiast. Hester raced Formula 1 cars, enjoyed motorcycles, held his pilot's license, and sailed with various yacht clubs. His business card is even attached to the inside front cover of the original AC Cobra Chassis Instruction Book. Below the card are handwritten notes on his car's particulars. His recorded purchase date is September 21, 1964, with the chassis and engine numbers chronicled, as well. Mr. Hester also made notes on his choice of service agent (Precision Motors of Beverly Hills), plus tire specs, sources, and the Shelby factory information. His contact's names, addresses, and phone numbers are all dutifully logged.
Mr. Hester placed the car for sale in the May 1965 issue of Road & Track magazine, though the car did not sell. Hester then had the car repainted in black in 1967. In 1969, Hester dropped CSX 2216 off at an Oldsmobile dealership in La Jolla for an oil change, only to return and find out an employee had been involved in an accident. With the damage repaired, Hester sold the Cobra in 1970 to James Gauthier of El Cajon, California.
Under Gauthier's ownership, CSX 2216 was modified for Solo I competition, and he campaigned it for several years before selling the Cobra to Ken Champion in 1982; it was noted at that time that a new engine was fitted. Champion enjoyed the car before selling the Cobra through Grand Prix Classics in the late 1980s to Investment Motorsports of Illinois. Investment Motorsports commissioned a rebuild back to original specifications, sending the Cobra to Baurle's Autosport in Addison, Illinois. Gerald A. Schwalbach of Minneapolis, Minnesota, acquired the car in 1989.
Most recently, the Cobra benefited from a restoration back to the way it originally left the Shelby American facility. The slab-side body was refinished in its original white and features front and rear nerf bar bumpers, wind wings, and sun visors. The car rides Michelin XWX tires which are mounted on chrome wire wheels. Though a replacement, the Cobra is powered by an original 289 cu. in. K-code engine and fitted with stock exhaust. It retains its original Borg Warner T-10 aluminum four-speed manual transmission. The interior is completed in red leather and features a wood-rimmed steering wheel with AC center cap, Stewart Warner instrumentation, clock, dash-mounted rearview mirror, and bucket seats with three-inch seat belts. A tonneau cover and convertible top with top irons provide weather protection. The Cobra retains its original doors, hood latch, and trunk latch, each of which are stamped correctly "2216."
CSX 2216 is documented by its original window sticker, Shelby American invoice to the receiving dealer, and a certified copy of the AC Cars Limited invoice to Ford Motor Credit for the account of Shelby American and the original AC Cobra Chassis Instruction Book in its original envelope.