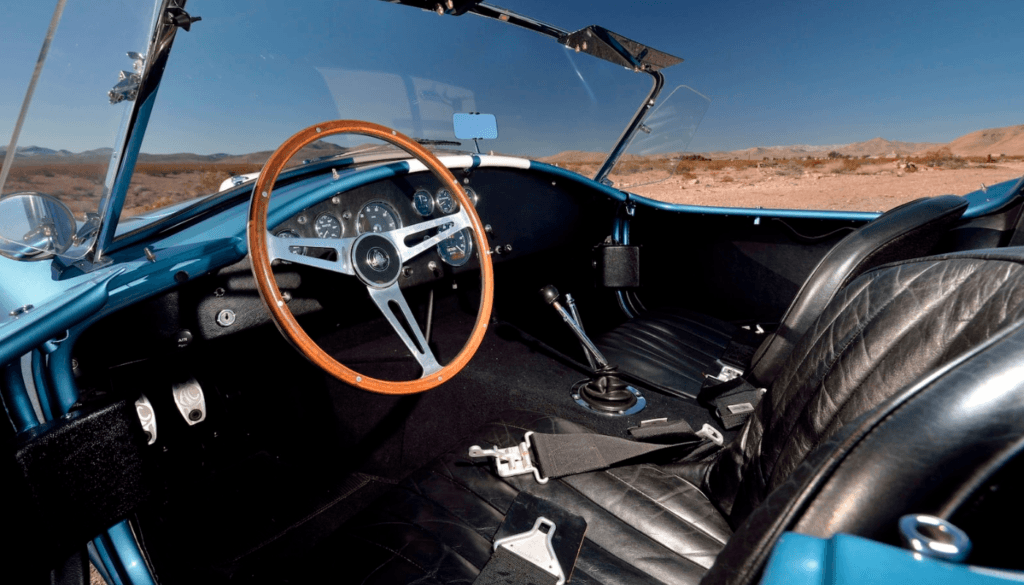 CSX3042 Vehicle Information and History:
1 of 29 Original Factory 427 S/C Cobras Produced
Five owners since new
10,760 original miles
Original engine
Delivered new to Grappone Ford in New Hampshire
John Grappone retained ownership of the car until 1982, making CSX3042 the last 'New' Cobra ever sold
Dan Turman of Connecticut purchased the car in 1982
Purchased from Turman by SAAC Cobra Registrar Ned Scudder in 1984 who owned it until 2004
CSX3042 was professionally restored in 2002 and earned a Premier Award at SAAC-27
Wayne Odle purchased CSX3042 from Scudder in 2004
Steven Juliano purchased the car from Odle in 2007
Over the next decade Steven Juliano made sure every part on CSX3042 was original or NOS down to the smallest detail, including service items
CSX3042 retains its original magnesium Halibrand wheels and original factory installed Goodyear Bluestreak tires
CSX3042 is regarded as the most original and correct 427 S/C Cobra in existence
This 1967 Shelby Cobra 427, CSX3042, is one of just 29 original factory-produced S/C (Semi-Competition) examples. Ordered new by John Grappone of Grappone Ford at the New England Ford Dealers 1967 new car introduction in Boston, Massachusetts, in October 1966, it is in superb concours-quality condition and shows just 10,760 original miles. Its five-owner history, thoroughly documented and chronicled in the Shelby Registry, begins with Grappone, who purchased the car for $7,395 and took delivery of this Sapphire Blue factory S/C at his Concord, New Hampshire, dealership on October 28, 1966.
Shortly thereafter, when Grappone learned that 427 Cobra production was being terminated, it was decided that Grappone Ford would keep this top-spec 427 Cobra for itself. In early 1967, Grappone Ford disassembled the 427 and installed a set of Holman Moody medium riser heads, raising compression from 10.4:1 to 12.5:1 and requiring shaving the dual-quad intake manifold to fit. This significant modification made CSX3042 more fearsome than ever, and the Grappone S/C is reported to have amassed an extensive winning record through dozens of late-night confrontations against other northern New England street racers.
In September 1967, Ford invited Grappone and CSX3042 to a new car introduction event at Bryar Motorsports Park. Grappone temporarily lost control while chauffeuring a Ford executive around the track, entering wide into a turn and veering off the track into a sandy runoff area. The Cobra's damage was limited to the windshield, left front fender and nose panels, likely paling in comparison to the damage to Grappone's ego and reputation with a certain Ford executive. Cobra specialist Kurt Hardy repaired CSX3042 over the winter of 1967-68, adding narrow white Lemans stripes over the Sapphire Blue paint in the process.
Grappone drove CSX3042 sparingly after that, one of its rare outings being the 1974 SOA convention in Reading, Pennsylvania, where it showed an odometer reading of approximately 5,000 miles. In the spring of 1982, gold futures trader Dan Turman of Gilford, Connecticut, boldly walked into Grappone Ford and offered Alan Grappone cash on the spot for CSX3042, despite the fact that it was not for sale. Turman kept counting out from a roll of bills until Grappone accepted his offer of $107,000, making CSX3042 the last "new" Cobra to be sold from a Shelby American dealer out of inventory. It also cleared a profit for Grappone of more than $99,000, likely the highest figure to that time.
After two years, Turman put CSX3042 up for sale to raise capital for a business deal in case a loan application fell through. When it failed to materialize, he contacted three prospective buyers, including Ned Scudder, a condominium sales manager who also happened to be SAAC's official Cobra Registrar. Competing against the two other potential buyers and racing against time, Scudder closed his office and hurried into Manhattan to be the first to deliver a $75,000 check to Turman's office.
In late 1984, Scudder commissioned Geoff Howard of Accurate Restorations in Danbury, Connecticut, to perform a general freshening that included new Black Imron paint on the chassis, new Koni shocks, Aeroquip brake lines, a new radiator core, rebuilt carburetors, repainted side pipes, a completely rebuilt suspension and several mechanical upgrades. 100 Point Restorations reapplied the white stripes Turman had earlier removed. Scudder showed the completed CSX3042 at the 4th Annual Tri-State SAAC Auto Show in Shawnee, Pennsylvania, in May 1986, where it was awarded Best in Show. It won First Place at the New Hope, Pennsylvania, Auto Show three consecutive years, 1985-87, and appeared at other SAAC events throughout Scudder's ownership.
Late in 1996, at approximately 10,000 miles, Scudder delivered CSX3042 to Phil Spaid of Jamesville, New York, for a body-off restoration, which included an engine rebuild by Ron Mack of Grand Haven, Michigan, and new paint by Randy DeLisio of Clyde, New York, who finished it in 1966 Ford Sapphire Blue with Hertz Gold stripes.
In 2002, the completed car won the Premier Award in Concours judging at SAAC-27 in Fontana, California. Ever on the alert for all things Cobra, Scudder managed to secure CSX3042's original Goodyear Blue Streak tires from Grappone Ford Sales Manager Stan Hallinan, who had carefully stored them away some 30 years earlier. Scudder mounted them on CSX3042's original magnesium Halibrand wheels and reserved them for show duty only. After 20 years of ownership, in 2004, SAAC Cobra Registrar Scudder finally decided to part with his prized S/C, selling CSX3042 to Wayne Odle of Mountain Lakes, New Jersey, who had the gold stripes, side pipes and wheel centers all painted white.
In 2005, CSX3042 underwent another professional restoration, this time by renowned Cobra specialist Mike McCluskey of Torrence, California. It was stripped bare and repainted in light metallic blue with Wimbledon White stripes, and the engine was reconfigured with a single Holley 4-barrel and aluminum air box. In 2007, Odle sold the car to Steven Juliano, who predictably decided to make CSX3042 the most correct and perfect 427 S/C Cobra possible. He enlisted the help of Dave Riley, and the duo invested substantial time and effort returning the car to its present concours-quality and unimpeachably correct condition.
More important to note is the fact that, like all of Juliano's Cobras, CSX3042 is completely devoid of any reproduction parts. It still wears its original tires, repatriated by Scudder all those years ago, as well as only original or NOS parts throughout the entire car. For the uninitiated, this may not seem like an important distinction, but rest assured, this is a herculean feat for any Cobra, let alone a factory competition specification example with their myriad unique parts.
Today, CSX3042 is rightfully regarded as the finest 427 S/C Cobra extant, and thanks to Juliano's efforts, it will serve as a reference-level example for generations to come. Its impressive history is well documented from new and has been celebrated since 1974, when it was first shown in the SOA newsletter. In addition to a detailed entry in the "World Registry of Cobras and GT40s," it has appeared in three issues of "The Shelby American," and in "Cars Illustrated," "Muscle Mustangs and Fast Fords," "Cool Classics – Cobra" by Jay Schleifer and "AC Cobra: The Truth Behind the Anglo-American Legend" by Rinsey Mills.
In the world of 427 Street Cobras, the 29 factory S/C examples will always be regarded as the ultimate versions. And in the world of 427 S/C Cobras, CSX3042, the one Steven Juliano picked over all others and spent years perfecting, has no equal.
Sold at the Mecum Indy (2019) classic car auction on May 17, 2019 for $2,860,000
For more information, visit: Mecum