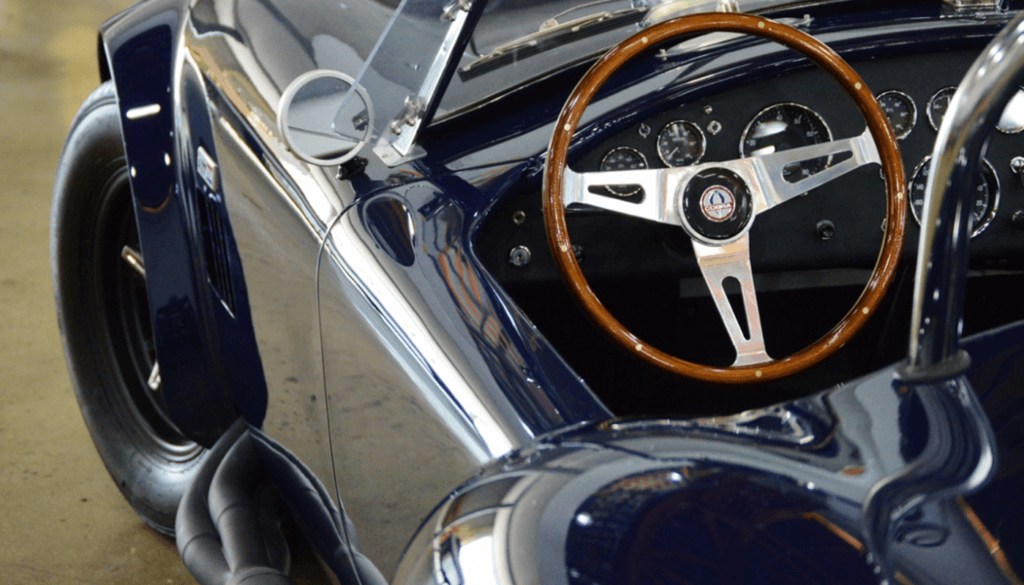 CSX4400 Vehicle Information and History:
Aluminum Keith Craft-Built 482ci V8
4-Speed Toploader
Aluminum Bodywork
Dana 44 Rear End
Black Halibrand Wheels
Serviced by McCluskey Ltd.
This 2008 Shelby Cobra CSX4400 is an aluminum-bodied continuation example that shows just 2,555 miles.
Power comes from a Keith Craft-built 482ci Ford FE V8. Based on an aluminum 427ci FE block, this 610 horsepower engine puts power down through a 4-speed Toploader manual transmission and a Dana 44 rear end in an aluminum Shelby housing. The car has been maintained by McCluskey Ltd. since the current owner purchased the car, and several upgrades are fitted, including a 40 gallon Kirkey fuel tank, new 6-piston Wilwood front brakes in place of the Baer originals, and uprated Holley fuel pumps.
The chassis is constructed of 4″ round section tubing, and the suspension is fully independent front and rear. The 4-speed toploader transmission is shifted via a correct-style steeply raked shifter. The owner had period-style Smiths gauges fitted by McCluskey in place of the Carroll Shelby Signature items noted on the build sheet. Carroll Shelby's signature adorns the vinyl dash.
The car is finished in Navy Blue without stripes and features aluminum bodywork, reportedly a $50k option. Brightwork is limited, including the driver's stainless steel roll hoop and a small number of chrome pieces elsewhere on the car. The black Halibrand pin-drive wheels are fitted with polished aluminum knock-off spinners. McCluskey Ltd. machined the inner surface of the front wheels to correct for defects, and all four wheels were refinished.
The cabin is trimmed simply with black carpets and black vinyl seats, with period-style harnesses. This example is equipped with an optional heater/defroster system, as well as a fresh-air vent for the driver. The original owner opted not to fit 3M protective strips on the rear corner, allowing the finish to chip and degrade as an original car would have.
For more information, visit: BaT