They have a number of different versions available:
Each rolling chassis comes completely assembled, less engine and transmission.
History of Kirkham Motorsports
In 1994—furious at the clones as well as the outright counterfeits that used the name—Shelby stormed back into the Cobra business. He resurrected Shelby American outside Las Vegas, next to the Las Vegas Motor Speedway racetrack, to make partial Cobras, and Carroll Shelby Enterprises in California to make Cobra parts. The irony is that Shelby used fiberglass bodies, just like the knockoff producers, but charged a lot more. By the time it was completed, a Shelby American 427 cost approximately $90,000. Now Shelby is making a Cobra true to the original, but the irony is that he was incited to do so by a Cobra replica maker, Provo, Utah, manufacturing engineer David Kirkham. He turned Shelby's head with an aluminum-bodied replica that's as close to the original as its creator had ever seen. Shelby was so impressed with Kirkham's replica that in 1997 he allowed it to be placed alongside Cobra originals in the paddock area at the Monterey Historic Races—an honor Shelby bestowed on no other maker. Now together they're putting a top-quality Shelby Cobra on the road again.
Kirkham had fallen for the Cobra as a child. And while he was a student at Brigham Young University, he began to apply his studies in metallurgy to the family business of car restoration, reverse-engineering Cobra parts from a 427 street version Shelby Cobra the family owned. By the time he had graduated, Kirkham had copied and produced virtually every part in the car. "The idea was to provide a cheaper supply for our business," he says. "Cobra parts had become extremely expensive."
That left the Cobra body and frame, the only major components Kirkham had not yet duplicated. A solution appeared in 1995 when Kirkham, with his brother and brother-in-law,visited a huge military aviation production facility in Mielec, Poland, from which his brother-in-law had recently bought a MiG fighter trainer for $10,000—a relative bargain. "When I saw that plane the light bulb went on," notes Kirkham, who looks like an engineer right down to the Dilbert-style eyeglasses. "I realized an aircraft is nothing more than an aluminum skin over a steel-tube structure, welded together." That, of course, was the basic structure of the original Cobra. What had further captivated the three Americans and led them to visit the factory was that thousands of skilled workers stood idly at millions of dollars' worth of sophisticated metalworking mills and lathes.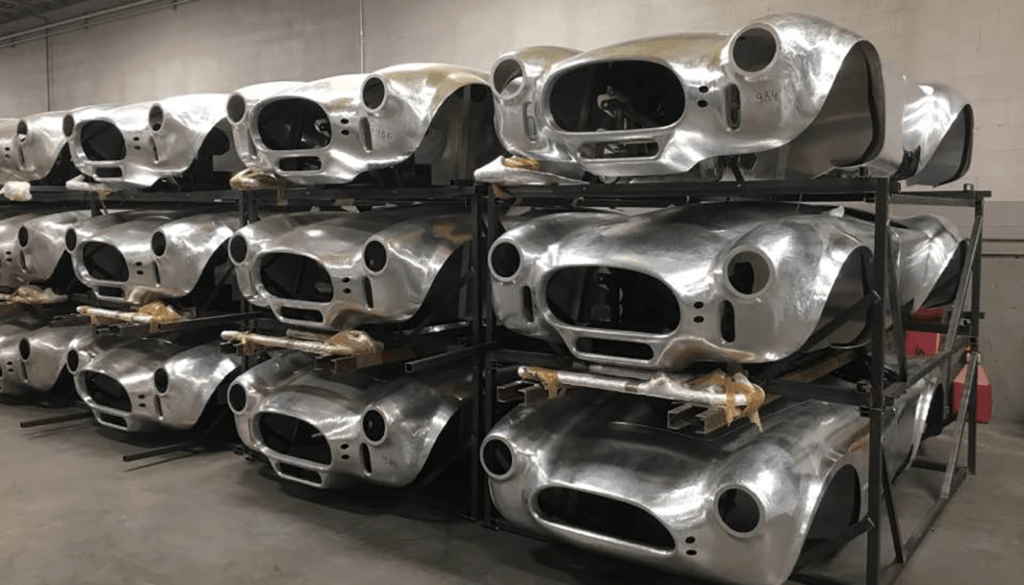 Once the Kirkham brothers found out the plant was interested in making Cobra bodies they decided to convince their father to take a flyer. Kirkham spoke no Polish then. "Sheer engineering was the only way we could communicate," he says, recalling his first meetings with the foreign team. He scratched out messages in the dirt using only mathematical symbols: plus, minus, equal, not equal, less than, more than.
"In the end we had built a car out of thin air," says Kirkham, who shuttled back and forth between Poland and Utah overseeing the completion of the new 427, which required 17 versions at a cost of nearly two million dollars. "I took our original Cobra 427 and using a CAD [Computer Aided Design] system electronically produced 3-D surfaces of the car." Based on these specifications the Poles made the tooling and dies necessary to reproduce the body and many of the component parts—so perfectly the new parts were interchangeable with the old ones. Moreover, the frame and body were better than the original's because the Poles used a superior aircraft-grade alloy for the aluminum skin. Kirkham raps sharply on a fender. "Now, if you did that on the original, you'd leave knuckle marks," he says. Producing in Poland had one other enormous advantage: It cost a fraction of what it would have in the United States.
Cobra fanatics were lining up to pay $85,000 to $95,000 for a Kirkham Cobra, calling it the best and most faithful Cobra replica ever made. Many even thought it was better than the original. Certainly the Kirkham was an improvement on Carroll Shelby's own glass-bodied Shelby Americans. "A Kirkham will run circles around most of the Cobras made in the sixties," says Curt Scott, who publishes The Complete Guide to Cobra Replicas in Car Collector Magazine. "It's a masterpiece."
"Kirkham has become the premier Cobra replica builder," Lynn Park, co-president of the Cobra Owners Club of America and owner of eight original Cobras—six 289s and a pair of 427s. Park, who has but one replica among his fleet of nine Cobras—the Kirkham. "Except for the Cobra tag missing, you wouldn't know you weren't in a real Cobra. The other replicas are Cobras in looks only." The first three cars were delivered in 1996, and 17 more in 1998. By then, the time from order to delivery had stretched to six months or more, and the Kirkhams realized their production could never go beyond 20 to 25. "We're simply not big enough," says Kirkham. So when Shelby American's Tom Conley, who had known the Kirkham family for years, called last summer, the Kirkhams were ready to talk.
Shelby American finally admitted that it couldn't make a "real" Cobra again without a well-made aluminum body. (The company still offers a custom-made aluminum body, at the cost of $44,000.) With dies in place and production set up, Kirkham made better-alloy bodies for far less. On the other hand, the Kirkhams had no sales network, limited financing, and a strained-to-the-limit production facility, whereas Shelby American had a dozen established dealers, a desire to expand, and a new production facility in Las Vegas. Plus, the car could legally wear the Cobra badge, and Carroll Shelby's still-considerable clout would be behind it. As Shelby told Kirkham, "Nobody is as good at making the cars as you are, but nobody is as good at selling them as Carroll Shelby."
"There had been some bad blood between Shelby and the Kirkhams in the past; we had to get past that," says Conley. ("Let's see if the people would rather buy from Carroll Shelby or some guy who goes off to Poland," a fuming Shelby had been quoted in a 1996 AutoWeek article). Business sense overcame emotion. "After a lot of talking we agreed Kirkham would sell us the bodies attached to the frames," says Conley, "and they'd take themselves out of the retail business and make Shelby American their exclusive customer."
Production of the assembled vehicle (missing only the engine, transmission, and paint) is in Las Vegas, with final assembly to a customer's specifications taking place at one of the dozen Shelby dealers. The dealer-set final cost of a fully accurate 427 is $115,000 to $120,000—a relative value compared to the fiberglass Shelby American Cobra's final cost of around $103,000. With the same badging as the original car, the first Shelby American Cobra, this time with body by Kirkham instead of AC, was delivered as a limited edition production of 50 cars for the 50th anniversary of the original 427 Shelby Cobra.
The arrangement was a loose one, and it allowed either of the companies to walk away after all purchase orders have been satisfied. Shelby American could find another body-and-parts supplier, or Kirkham could eventually go back into Cobra replica production. During the continuation period, Kirkham Motorsports were contracted by Shelby to produce rolling Cobra body/chassis units but this did not end amicably. Pete Brock said in a Hot Rod magazine interview "Like the Kirkhams, even when they were supplying most of Shelby's Cobra parts. Shelby would go to them and say he would buy their entire year's worth of production and sign a contract. They called me and asked if they should do it and I said, "As long as you get the money up front, but if you let a car out the door, you'll lose money." Shelby paid that way for two years and then finally Kirkham got a great big order and Shelby's truck driver said he forgot to bring the check. He went back with a bunch of cars on the transporter and Shelby told them he wasn't going to pay them—that they owed it to him. Can we say…deal over?
But it may also create a brand-new and far more exclusive Cobra collector market for the few factory-built Kirkhams produced before the Shelby American deal. Kirkham had delivered just 54 full or partial 427s. Of this number, only 16 were turnkey models, meaning completely finished by Kirkham and bearing the KMP (Kirkham Motorsports Poland) marque and a serial number. These are the turnkeys: 003-007, 010, 020, 022, 024, 027-028, 030-031, 034, 043, 047.
---
For some it is the sound of a big block FE engine rumbling through the side pipes and the brutal acceleration that pushes you back when you hit the gas. Others can not help but stare at the curvaceous fenders and are drawn in by the beautiful craftsmanship of the aluminum body. From the oil cooler and hood scoop to the roll bar and fender flares, this car is all about performance.
Kirkham 427 KMS/SC Equipment:
Body Finish:
Filed aluminium 427 body finish
Option: Brushing the aluminium body
Option: Polishing the aluminium body
Option: Main stripes (w/ brushed or polished body only)
Option: Pit stripes on fender (w/ brushed or polished body only)
Option: Copper 427 body, polished or brushed finish with main stripes
Option: Number circles, hood, trunk, and sides (w/ brushed or polished body only)
Option: Hard top with side curtains, Le Mans style, aluminium
Option: Super Snake reproduction hood
Option: Flip top option
Frame:
4 inch powder coated steel frame
coil over suspension
Driver side roll bar: Steel
Option: 4 inch stainless steel frame
Option: Driver side roll bar: Stainless steel
Option: Passenger side roll bar: Stainless steel
Option: Right hand drive option (RHD)
Body Hardware:
Wiper system
Aluminium jack hooks
Ferrules for doors, set of 8
Wheel well foam, uninstalled
Stainless fuel tank
Option: Gold foil and aerogel insulaton for foot boxes
Option: Heat shield for foot boxes, polished stainless
Option: Wheel well foam, installed
Option: Stainless 30 gallon fuel tank
Interior:
Latches/ handles for hood,trunk, doors
Windshield, sun visor, wind wings
Pedal assembly: Throttle, brake & clutch, billet aluminium
Carpet, wool, not installed
Steering wheel, wood or leather wrapped
Throttle linkage
Leather covered dash
Fresh air ventilation system, drivers footbox
Option: Carpet, wool, installation
Option: Door pockets, leather
Option: Map pocket, leather
Option: Seat tracks, adjustable, billet aluminium
Option: Powder coat rear bulkhead and wheel wells
Option: Seat belt, upgrade to 6 point harness (requires roll bar)
Option: Halon fire suppression system
Option: Fresh air ventilation system, passenger's footbox
Option: Dropped footbox, for drivers 6ft 3in and above
Electrical:
Wiring harness with relays and switches
Sealed battery with mounting tray and battery cutoff switch
Headlights, tail lights, turn signals, license plate light
Gauges, full set
Engine Compartment:
Radiator with radiator tubes
Oil cooler, complete assembly
FE motor mounts, 427, set of 2
Steel steering shaft
Painted steel side pipes, with headers, not installed
Option: Stainless steering shaft and u-joints
Option: Coolant tank, billet aluminium
Option: Alternator bracket, billet aluminium
Option: Oil vapor separator tank
Option: Throttle return spring and bracket
Option: 427 side pipes, stainless, with headers
Option: 427 side pipes, polished stainless, with headers
Option: Under car exhaust, stainless, with headers
Option: Billet aluminium intake trumpets for Weber carbs
Option: Billet aluminium 427 oil pan
Transmission:
Transmission mounts, Tremec OR Top Loader
Drivetrain:
Kirkham aluminium differential, reproduction of original w/ mounts
Differential breather hose
Driveshaft
Half shafts with CV joints, set of 2
Option: Original style U-joint with 1/2 shafts, replaces CV joints
Option: Differential cooler
Option: Driveshaft safety loop, billet aluminium
Suspension:
Kirkham billet aluminium suspension with 4 inch coil overs
Shocks, Penske w/ Hyperco springs, non-adjustable, set of 4
Option: Original tubular type suspension with Willwood calipers and rotors
Option: Shocks, Penske w/ Hyperco springs, adjustable, set of 4
Brakes:
Wilwood 4 piston calipers front and rear, vented disks, E-brake
Stainless brake lines
Reservoirs, brake and clutch, billet aluminium
Option: Reproductions of Girling calipers, billet, requires tubular suspension option
Option: Labor, fill and bleed brake system
Tires and Wheels:
Tires, 245/60/15 front, 275/60/15 rear with Trigo aluminium wheels
Bronze Package:
Option: Bronze 427 body, polished or brushed finish with main stripes
Option: Brushed Bronze 427 turkey pan
Option: Bronze accents: Knock offs, Fuel cap, Side vents, Hood latches
Option: Billet bronze intake trumpets for Weber carbs
Option: Bronze hood scoop, polished or brushed
Accessories:
Option: Dash glare guard, not installed
Option: Custom side badges
Option: Heater/AC combo
Dimensions:
Wheelbase: 90″
Height: 47″
Width: 68.75″
Length: 153″
Weight: From over 2400 pounds for a car with original style suspension, brakes, differential, top loader, 427 FE iron block and heads to less than 2000 pounds with all of our lightweight options and an aluminum engine.
---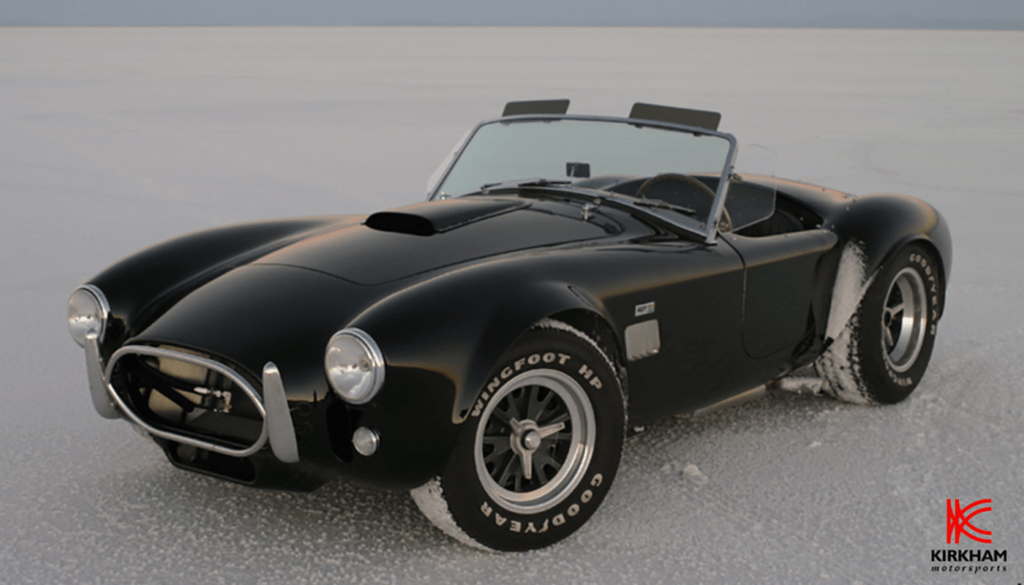 The Kirkham 427 Street is all the power, speed, and handling of the popular 427 KMS/SC but with a clean body. The biggest differences between the 427 KMS/SC and the 427 Street are visual. The 427 Street is commonly delivered without a hood scoop, under car exhaust instead of side pipes, bumpers instead of jack hooks, and no engine oil cooler.
Dimensions
Wheelbase: 90″
Height: 47″
Width: 68.75″
Length: 153″
Weight: From over 2400 pounds for a car with original style suspension, brakes, differential, top loader, 427 FE with iron block and heads to less than 2000 pounds with all of our lightweight options and an aluminum engine.
---
Adding a rumbling American V8 to a light weight aluminum bodied roadster is a successful recipe for performance. Many people forget that it was the 289 cars that won so many races and championships. This car is affectionately called the 'slab side' by many enthusiasts because the relative lack of fender flares. Underneath the beautifully subtle body lies a performance chassis with independent suspension, disk brakes and rack and pinion steering.
Dimensions
Wheelbase: 90 inches
Height: 47 inches
Width: 68.75 inches
Length: 153 inches
---
The FIA model is the result of performance modifications made to the 289 street car. In order to make room for larger rear tires the fenders are flared. The larger rear fenders caused a need for the doors to be reshaped into what are now commonly called 'cut back' doors. The forward braced roll bar was also added in the name of performance and necessity.
Dimensions
Wheelbase: 90 inches
Height: 47 inches
Width: 68.75 inches
Length: 153 inches